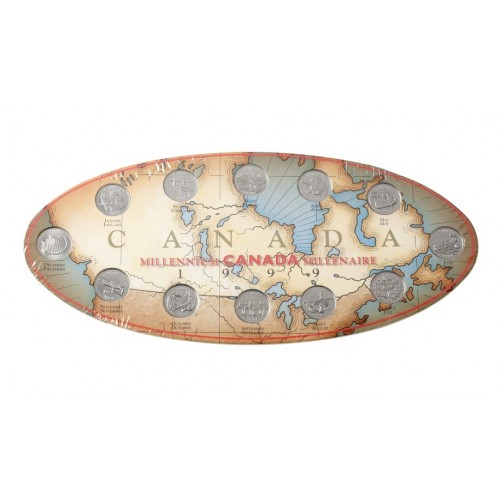 1999 Brilliant Uncirculated 25 Cent Coin Set - Millennium Series
1999 Brilliant Uncirculated 25 Cent Coin Set - Millennium Series

Face Value: Set - Includes twelve 25 cent coins.
Mintage: 258,888,000
Composition:
Weight (g):
Diameter(mm):
Finish: BU
Design: The twelve 25 cent nickel coins of 1999 were issued along with the Millennium medallion of 1999, inserted in a replica of a 1785 map of Canada. The medallion was only available in the millennium set. All coins are brilliant uncirculated. It is in this set that the "No Denomination" coins of September and November are found.
During the fall of 1999, a Queen Elizabeth II Caribou obverse die became paired with the reverse dies of September and November millennium twenty-five cent coins creating two mules. The interesting result of this pairing is that for the first time Canada has a non-denominational legal tender coin.
Shipping:
Coins Unlimited offers secure shipping services worldwide via Canada Post. Upon payment confirmation, orders ship from our store location within 1-2 business days.
Standard Return Policy:
Items must be returned in new or unused condition and contain all original materials included with the shipment.
International Shipping:
Offering secure, timely shipping services from Canada Post. For more information and availability regarding delivery services to your country:
NOTE:
Some products are not eligible for international shipment. Also, additional restrictions may apply.
Need further assistance?
Please contact our Customer Service line at (+1) 905-788-0376 or email us.