Royal Canadian Mint
2004 Fine Silver Fractional 5-Coin Proof Set - Maple Leaf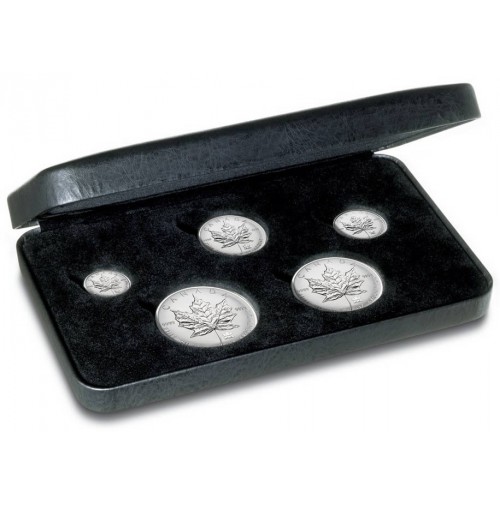 2004 Fine Silver Fractional 5-Coin Proof Set - Maple Leaf

Face Value: $5, $4, $3, $2, $1
Mintage: N/A
Composition: 99.99% Silver
Weight (g):
Diameter (mm):
Finish: Proof
Design: Set of 5 coins encased in a black leatherette clam style case, black insert, encapsulated coin, certificate and silver paper sleeve
Category:
Anvils
Product #:
2004MAPLELEAFFRACTIONAL
GTIN:

623932230248

Available from:

Coins Unlimited

Condition:

New

2
2004 Fine Silver Fractional 5-Coin Proof Set - Maple Leaf
2004 Fine Silver Fractional 5-Coin Proof Set - Maple Leaf

Face Value: $5, $4, $3, $2, $1
Mintage: N/A
Composition: 99.99% Silver
Weight (g):
Diameter (mm):
Finish: Proof
Design: Set of 5 coins encased in a black leatherette clam style case, black insert, encapsulated coin, certificate and silver paper sleeve
Shipping:
Coins Unlimited offers secure shipping services worldwide via Canada Post. Upon payment confirmation, orders ship from our store location within 1-2 business days.
Standard Return Policy:
Items must be returned in new or unused condition and contain all original materials included with the shipment.
International Shipping:
Offering secure, timely shipping services from Canada Post. For more information and availability regarding delivery services to your country:
NOTE:
Some products are not eligible for international shipment. Also, additional restrictions may apply.
Need further assistance?
Please contact our Customer Service line at (+1) 905-788-0376 or email us.