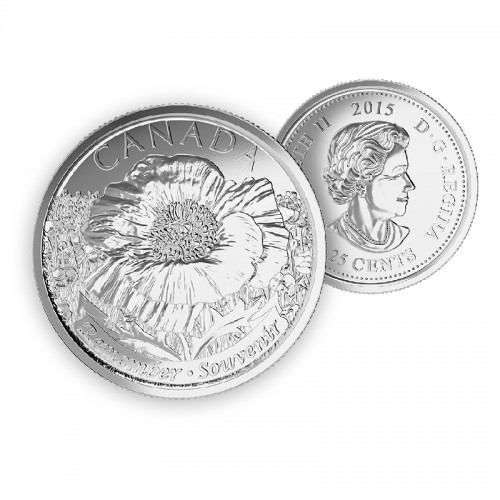 2015 Canada 25-cent Remembrance Poppy (Brilliant Uncirculated)
2015 Canada 25-cent Remembrance Poppy (Brilliant Uncirculated)
NEVER FORGET WITH THE 2015 REMEMBRANCE COINS
2015 marks the 100th Anniversary of Canadian Lieutenant-Colonel John McCrae's writing of In Flanders Fields. It is one of the First World War's most recognized poems and an integral part of Canadian culture. The poem's striking imagery has served to enshrine the poem and the poppy as enduring and powerful symbols of remembrance for all Canadians, to this day.
Commemorate this anniversary with these beautifully designed and finely crafted coins.
Royal Canadian Mint issued 25-cent coin for circulation in 2015. Item comes in standard 2" x 2" coin holder in brilliant uncirculated (BU) condition.
Specifications
| | |
| --- | --- |
| Mintage: | - |
| Composition: | three-ply nickel finish plated steel |
| Finish: | Circulation |
| Weight: | 4.4 g |
| Diameter: | 23.88 mm |
| Certificate: | - |
| Face Value: | 25 cents |
Shipping:
Coins Unlimited offers secure shipping services worldwide via Canada Post. Upon payment confirmation, orders ship from our store location within 1-2 business days.
Standard Return Policy:
Items must be returned in new or unused condition and contain all original materials included with the shipment.
International Shipping:
Offering secure, timely shipping services from Canada Post. For more information and availability regarding delivery services to your country:
NOTE:
Some products are not eligible for international shipment. Also, additional restrictions may apply.
Need further assistance?
Please contact our Customer Service line at (+1) 905-788-0376 or email us.