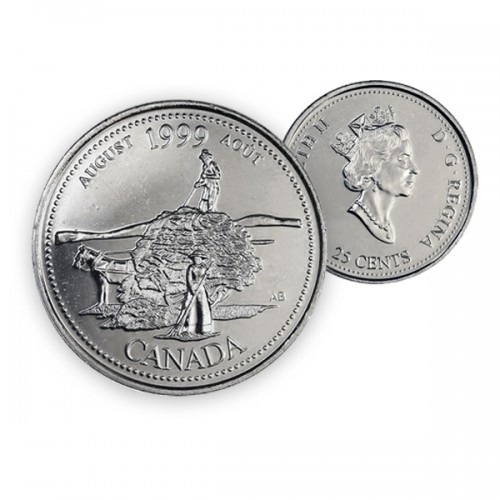 1999 Canada Millennium Series 25-cent August (Brilliant Uncirculated)
1999 Canada Millennium Series 25-cent (Brilliant Uncirculated)
August - The Pioneer Spirit
Design features pioneers who came to Canada from other countries to enjoy prosperity and new beginnings.
To celebrate the new millennium, Canada created a two year circulating commemorative program that would be conducted in two parts (one in 1999 and one in 2000). Each program released 12 quarters per year ( 1 per month) and each featured a unique design.
1999 features designs representative of Canada's past. In an open design contest called "Create a Centsation" over 33,000 designs were submitted for consideration.
2000 features designs representative of Canada's dreams for a new millennium. A second design contest was held and over 66,000 designs were submitted for consideration.
Each roll contains 40 Royal Canadian Mint issued 25-cent coins for circulation in August 1999.
Specifications
| | |
| --- | --- |
| Mintage: | 17,621,561 |
| Composition: | 100% nickel |
| Finish: | Circulation |
| Weight: | 5.05 g |
| Diameter: | 23.88 mm |
| Certificate: | - |
| Face Value: | 25 cents |
Shipping:
Coins Unlimited offers secure shipping services worldwide via Canada Post. Upon payment confirmation, orders ship from our store location within 1-2 business days.
Standard Return Policy:
Items must be returned in new or unused condition and contain all original materials included with the shipment.
International Shipping:
Offering secure, timely shipping services from Canada Post. For more information and availability regarding delivery services to your country:
NOTE:
Some products are not eligible for international shipment. Also, additional restrictions may apply.
Need further assistance?
Please contact our Customer Service line at (+1) 905-788-0376 or email us.