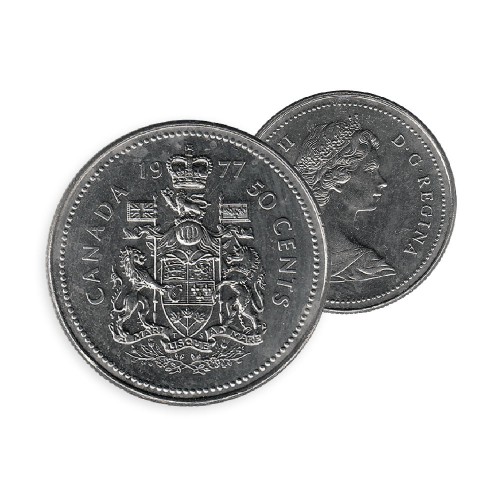 1977 Canada 50 Cent Coin - Coat of Arms (Circulated)
1977 Canada 50 Cent Coin - Coat of Arms (Circulated)
50 Cents - Elizabeth II with Tiara / Coat of Arms (1968 - 1989)
Coin issues feature the approved Canadian Coat-of-Arms. This design bears a ribbon at the bottom with the inscription "A MARI USQUE AD MARE," meaning "from sea to sea". Making reference to the territorial extent of the country.
Obverse
Coin depicts the Tiara design of Queen Elizabeth II with the Latin inscription:
ELIZABETH II D • G • REGINA meaning "Elizabeth II, by the grace of God, the Queen
Reverse
Features the Canadian Coat of Arms as described by the Royal proclamation of November 21, 1921.
Royal Canadian Mint issued 1977 Canada 50 Cent coin for circulation. Item comes in standard 2" x 2" coin holder in circulated condition.
Note: The photo of this item is a stock image only.
Specifications
| | |
| --- | --- |
| Mintage: | 709,939 |
| Composition: | 100% nickel |
| Finish: | Circulation |
| Weight: | 8.10 g |
| Diameter: | 27.13 mm |
| Magnetism: | Magnetic |
| Face Value: | 50 cents |
| Die Axis: | ↑↑ |
Shipping:
Coins Unlimited offers secure shipping services worldwide via Canada Post. Upon payment confirmation, orders ship from our store location within 1-2 business days.
Standard Return Policy:
Items must be returned in new or unused condition and contain all original materials included with the shipment.
International Shipping:
Offering secure, timely shipping services from Canada Post. For more information and availability regarding delivery services to your country:
NOTE:
Some products are not eligible for international shipment. Also, additional restrictions may apply.
Need further assistance?
Please contact our Customer Service line at (+1) 905-788-0376 or email us.