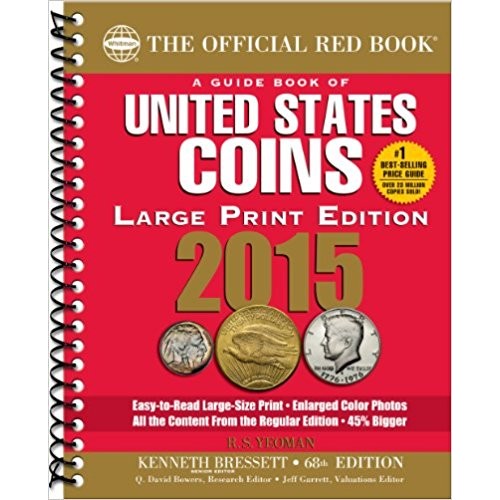 The Official Red Book: A Guide Book of United States Coins - 68th Edition, 2015 (Large Print Edition)
The Official Red Book: A Guide Book of United States Coins - 68th Edition, 2015 (Large Print Edition)

Go easy on your eyes so you can spot more treasures while you're adding to your collection! The Official Red Book is not available in a very popular LARGE PRINT edition, with easy-to-read large-size print and enlarged color photos. The best way to learn about your coins is with bold, easily legible text and high-detailed photographs. The 2015 Large Print Edition of the Guide Book of United States Coins is designed with this experience in mind. Each page is 45% larger than the classic red hardcover edition.
Shipping:
Coins Unlimited offers secure shipping services worldwide via Canada Post. Upon payment confirmation, orders ship from our store location within 1-2 business days.
Standard Return Policy:
Items must be returned in new or unused condition and contain all original materials included with the shipment.
International Shipping:
Offering secure, timely shipping services from Canada Post. For more information and availability regarding delivery services to your country:
NOTE:
Some products are not eligible for international shipment. Also, additional restrictions may apply.
Need further assistance?
Please contact our Customer Service line at (+1) 905-788-0376 or email us.