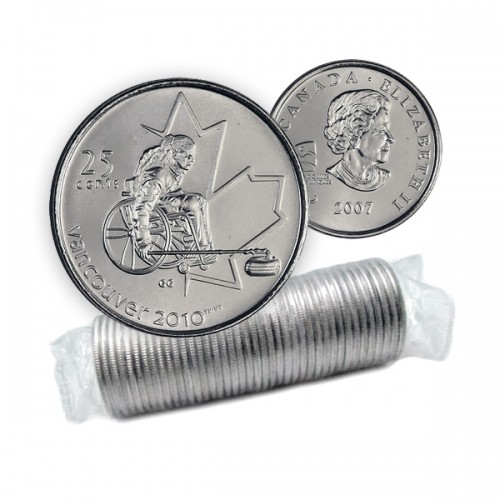 2007 Vancouver 2010 Paralympics 25-cent Wheelchair Curling Original Coin Roll
2007 Vancouver 2010 Paralympics 25-cent Wheelchair Curling Original Coin Roll
Mint Unveils 3-Year Coin Program & Olympic Support
In January of 2017, the Royal Canadian Mint unveils its three year program of circulation and collector coins in honour of the Vancouver 2010 Olympic and Paralympic Winter Games. The Canadian coin program is the most extensive circulation program of the Olympic and Paralympic Games ever conceived by any mint worldwide. As an Official Supporter of the 2010 Winter Games, the Mint will also produce the athlete medals for both Olympic and Paralympic Winter Games.

Circulated Coins
From 2007 to 2010, the Royal Canadian Mint will put into circulation 17 coins featuring designs related to the 2010 Winter Games. Up to 350 million coins will go into circulation:
Twelve 25-cent coins will depict Olympic winter sports and two Paralympic winter sports.
Three additional 25-cent coins will feature designs of Canadian athlete medallists with the participation of Canadians.
Two one-dollar Lucky Loonie coins will also be struck.
Each roll contains 40 Royal Canadian Mint issued 25-cent coins for circulation in July 2007 .
Specifications
| | |
| --- | --- |
| Mintage: | - |
| Composition: | 94% steel, 3.8% copper and 2.2% nickel |
| Finish: | Circulation |
| Weight: | 4.4 g |
| Diameter: | 23.88 mm |
| Certificate: | - |
| Face Value: | 25 cents |
Shipping:
Coins Unlimited offers secure shipping services worldwide via Canada Post. Upon payment confirmation, orders ship from our store location within 1-2 business days.
Standard Return Policy:
Items must be returned in new or unused condition and contain all original materials included with the shipment.
International Shipping:
Offering secure, timely shipping services from Canada Post. For more information and availability regarding delivery services to your country:
NOTE:
Some products are not eligible for international shipment. Also, additional restrictions may apply.
Need further assistance?
Please contact our Customer Service line at (+1) 905-788-0376 or email us.